Susan Ploughe
Developing Artistry with Animals as Inspiration
OILS or SLOW DRYING ACRYLIC
Friday, Saturday & Sunday
February 24, 25 & 26, 2023
9:00 am - 4:00 pm
$345.00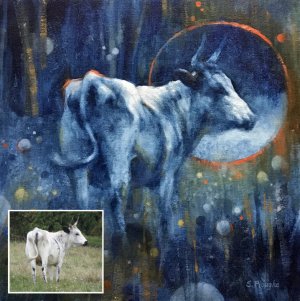 WORKSHOP DESCRIPTION:
This workshop is designed to introduce you to a variety of creative approaches that you can use on ANY subject matter. We just happen to be applying them to animals. Learn how to create something original rather than merely copying a photo. You will discover new ways to apply paint (and drip, remove, and scrape it), experiment with different surfaces, use unconventional color palettes, incorporate patterns, and more. As you work through each project, using a selection of inspiring reference photos, the focus will be on exploration and creativity. This workshop embraces less traditional approaches than other animal workshops, encouraging you to explore and play.
ABOUT THE ARTIST:
Susan holds a BFA in painting from Carnegie Mellon University. After many years of working as an illustrator and graphic designer, she turned to oil painting full-time in 2002. Since then, her work has been juried into many respected shows, including the Oil Painters of American National Exhibition. She has won awards in the OPA Eastern Regional, Salon International, The American Impressionist Society, Plein Air Easton and other exhibits. Susanís work has appeared in Southwest Art, American Art Collector, Fine Art Connoisseur, International Artist, and American Artist magazines.
Website: www.susanploughe.com