Janet Rogers AWS
Watercolor
Portraits & Flowers
Friday, Saturday & Sunday

October 15, 16 & 17, 2021
9:00 am - 4:00 pm
$425.00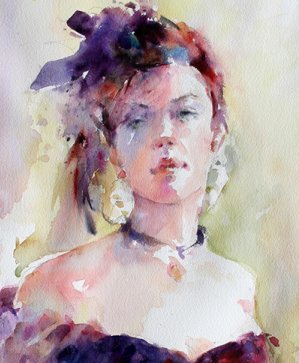 WORKSHOP DESCRIPTION:
Fresh flowers in the studio will be the inspiration for the beginning of this workshop – progressing to the portrait in watercolor, either from the model or photographs that students bring or from my collection. Through a series of painting exercises, students will develop a more loose and natural approach – giving them an opportunity to be more spontaneous and expressive in their paintings of flowers and portraits. A few drawing exercises will be included for the portrait. Many "features" will be covered! – including children's portraits. Some students may find they wish to return to flowers and that is fine. Janet will demonstrate approaches through the workshop and work individually with students as well as class instruction.
ABOUT THE ARTIST:
Janet is well known for her sensitive portraits of women and children, as well as her expressive floral paintings. She has gained much popularity as an instructor for many watercolor workshops in the United States and Europe. Watercolor demonstrations are part of her busy schedule, including Epcot International Flower and Garden Festival, Florida Watercolor Society, and of course workshops throughout the United States.
Originally from Philadelphia, Pennsylvania, Janet currently lives in Ormond Beach, Florida with watercolorist, Steve Rogers. Janet has won numerous awards from exhibiting her watercolors, including Disney's Festival of the Masters, "Under the Oaks", and the Florida Watercolor Society, of which she is a Signature Member, and also a Member with Excellence of the South Carolina.
Website: www.watercolorsbyrogers.com