Charlie Hunter
Plein Air Painting with
Water-Soluble Oils
Friday, Saturday & Sunday

September 10, 11 & 12, 2021
9:00 am - 4:00 pm
$400.00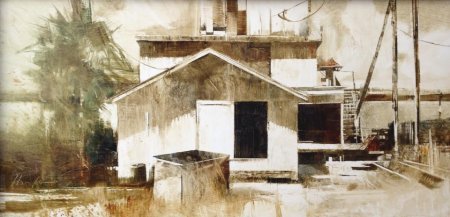 WORKSHOP DESCRIPTION:
As word has spread about Charlie Hunter's distinctive work, curiosity has arisen about how he goes about making a painting. Why water-mixable oils? Is it true that a squeegee is involved? And what about those Stim-U-Dents we keep hearing about? All will be revealed. We'll go over some simple, yet invaluable tools for accurate rendering, and talk about how sketching for 20 minutes a day can bring inner peace... We'll sketch and paint, and Charlie will expound and instruct about his approach to making dynamic paintings. We'll learn and laugh a lot while staying true to the credo of have big fun; make big mess.
ABOUT THE ARTIST:
Hunter describes his work as "drippy portraits of rotting American infrastructure." His painting process involves careful observation, sketching and use of muted, earth-toned palette in water-mixable oil. Hunter is the recipient of numerous plein air painting awards, was the subject of a recent feature in PLEIN AIR Magazine and has served as an instructor at the last three Plein Air Conventions in Monterey, California. He exhibits in galleries and museums across the US and his work is viewable on line.
Website: www.hunter-studio.com